02|6|12
Following up on Saors post just a couple days ago, shortly after, three more Tibeten monks set themselves on fire in an act of protest against Chinese rule in Tibet. Two of those Tibetans are in critical condition and one passed away. The latest protest would mean 19 Tibetans had self-immolated in the past year and 13 of them had died. Most of the protesters are Buddhist monks or nuns in what are seen as acts of desperation in the face of tightening Chinese controls over Tibetan life and culture. Most of the immolations have occurred in heavily Tibetan areas of China's Sichuan province. The Dalai Lama recently spoke out about the wave of self-immolations in Tibet blaming Beijing's "cultural genocide"
I began thinking back to Thich Quang Duc, the Vietnamese monk who burned himself in protest in Sai Gon, June of 1963. It is almost impossible nowadays not to think about Thich Quang Duc when one thinks about this form of protest.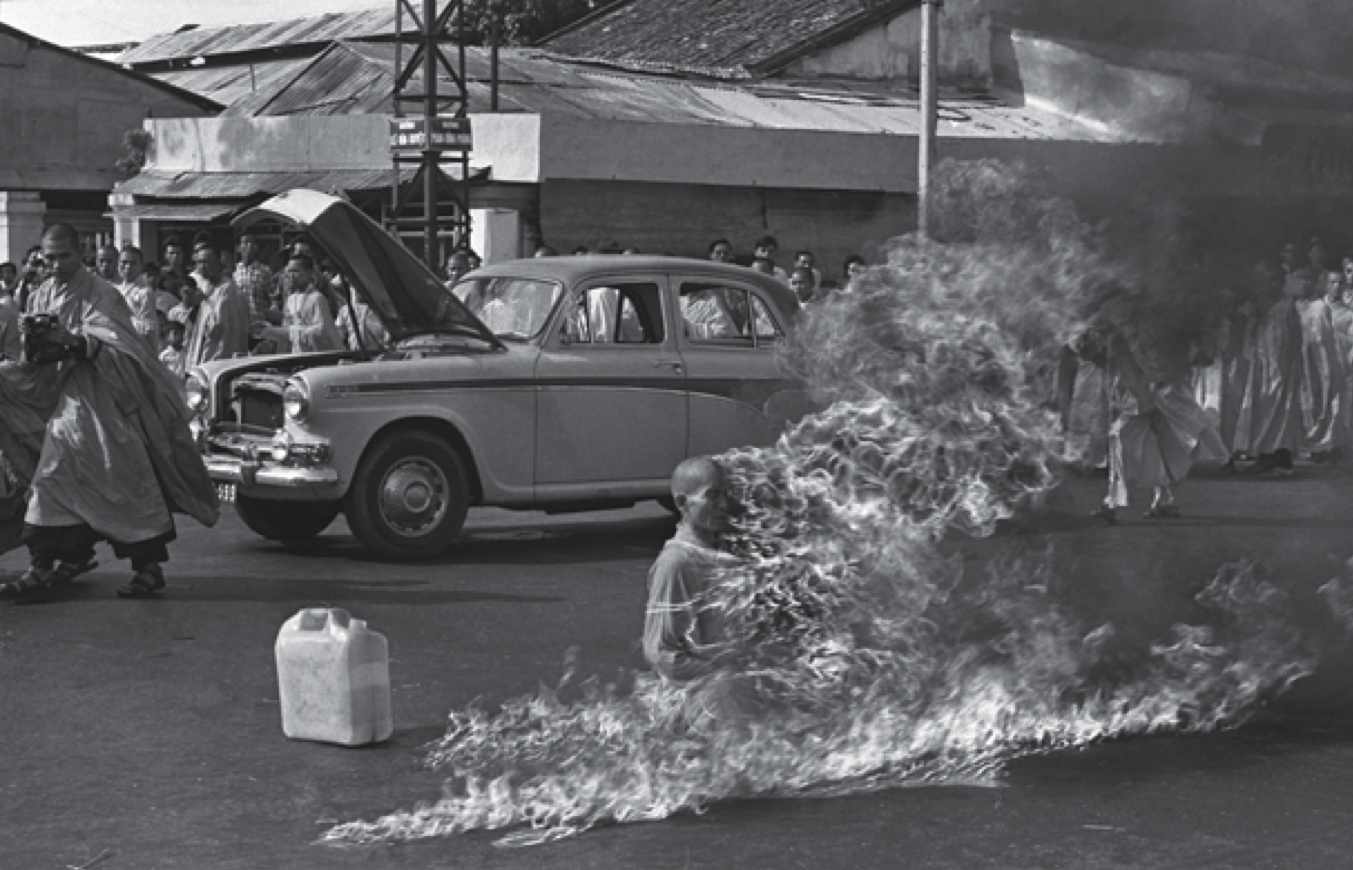 Buddhist philosopher Thich Nhat Hanh wrote an open letter to Martin Luther King, Jr. at the time, justifying their actions by drawing a distinction between self-destruction and self sacrifice for the sake of others. 'The self-burning of Vietnamese Buddhist monks in 1963 is somehow difficult for the Western Christian conscience to understand', Thich Nhat Hanh said in 1967.
On May 8th, 1963, on the birthday of Gautama Buddha and a month before Quang Duc offered his life, then president of Viet Nam, Ngo Dinh Diem, prohibited the display of religious flags in Hue, the centre of Vietnamese Buddhism. Diem's regime was Catholic and was especially militant in the propagation of Catholicism. As the ban on the display of religious flags was in the air, The Archbishop of Hue, Diem's older brother, raised Vatican flags to celebrate the anniversary of his reign. There was a mass demonstration in opposition to the lack of religious freedoms, and as a result, police killed nine of the protesters, including children. Buddhist monks began to mobilize.
Quang Duc asked to burn himself 'as a donation to the struggle', an unexpected act combining religious tradition and modern technology, the photograph and news media, which made it possible for a single action to have a worldwide impact almost immediately. The activists privately informed American journalists that "something important" would happen the following morning on the road outside the Cambodian embassy in Saigon.  They conducted experiments with different fuels and the entire spectacle orchestrated with precision to maximize publicity. A number of monks and nuns lay under the wheels of fire engines preventing them from reaching Quang Duc. A precession of over 350 Buddhist monks. A loudspeaker. "A Buddhist priest burns himself for five requests", yelled an activist. The distribution of texts, Quang Duc's final declaration, were translated in English for the benefit of the journalists.
Quang Duc's death by fire, inspired the world and as a result, within a few years, self-immolation entered the global repertoire of protest. In 1965, when the Western Christian conscience was still trying to get a handle on what it means to burn oneself in political protest, devotion, or renouncement, Norman Morrison of Erie, Pennsylvania, a Baltimore Quaker set himself on fire below Secretary of Defense Robert McNamara's Pentagon office to protest United States involvement in the Vietnam War.
Morrison quickly became a folk hero in Viet Nam, his name rendered as Mo Ri Xon.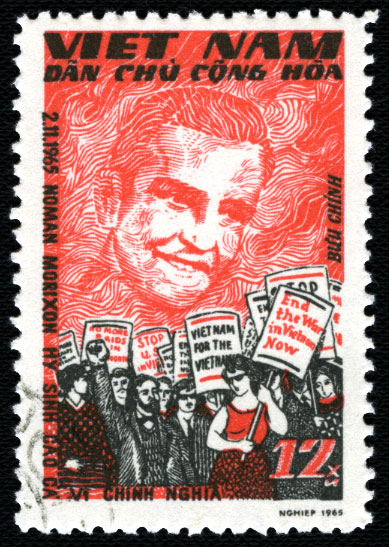 Vietnamese poet To Huu wrote a poem called Emily My Child, taking on the voice of Morrison's daughter Emily. The poem was later read aloud in 2007 by the president of Vietnam, Nguyen Minh Triet, on his visit to the U.S., near the place where Morrison immolated himself in commemoration.
…Emily my child
It is getting dark
I can no longer carry you home
When the fire burst into flames
Tonight your mother will come to find you
You will hug her and kiss her
For me
And you my child
Please tell her for me
I am happily on my way
Please don't be sad…
During the coming years in the late 60′s there was a surge of political protests around the world using suffering as a tool in protest. It was certainly nothing new as there are many examples throughout history where this has been used. The most striking example is that of Ghandi's salt protest in 1930, where he and thousands of followers walked over 200 miles spanning the course of 24 days. "On the march he castigated the followers for trying to ease the hardship, for example by trucking in fresh milk. 'Extravagance has no room in this campaign'. By the time he reached the coast, over ten thousand people had traveled to welcome him." The following is an excerpt from a paper written by sociologist Michael Biggs while at the University of Illinois at Urbana—Champaign. In it he outlines how suffering is used effectively and not so effectively in protest and coins the term 'communicative suffering'.
"Suffering communicates by evoking emotions and conveying information.
Suffering could also signal the strength of commitment to opponents. What matters is not just the number of people who are willing  to protest, but also the strength of their commitment."
Besides commitment, suffering also communicates  deprivation. Suffering lends salience. 'I wanted  someone to stop and think about us,'recalled Necla Koskun, a Kurdish girl who set fire to herself in London. More importantly, suffering may help to convince bystanders that protesters have a legitimate claim of injustice."
I thought these were interesting points to think about in relationship to Tibet, especially seeing as how the media coming out of the country has become incredibly controlled by China. Immediate news reports of these immolations are not usually confirmed. It is a very different landscape then it was in the 60′s where political journalism using the television was fairly new and in flux, was abundant and people absorbed everything like sponges. What happens when we can no longer communicate suffering, in the media and in our surroundings? How could one negotiate a new landscape of communication?
With the addition of the Internet, even closed systems can become opened once again. Most of the news coming out of Tibet comes from Radio Free Asia, an amazing group of individuals dedicated to keeping the voice of Tibet and other censored societies alive and well. As long as bigger news organizations take those feeds and keep feeding one another with the news, hopefully, the media can once again be a powerful tool for the dissemination of protest in places where it is seemingly impossible to reclaim the right to emanate thoughts.
"History has proven over and over again that unearned suffering is redemptive." – Martin Luther King Jr.
"Success is the certain result of suffering of the extremest character voluntarily undergone." – Ghandi